How much is the technical principle known: how to preprocess the data of automatic glass cutting machine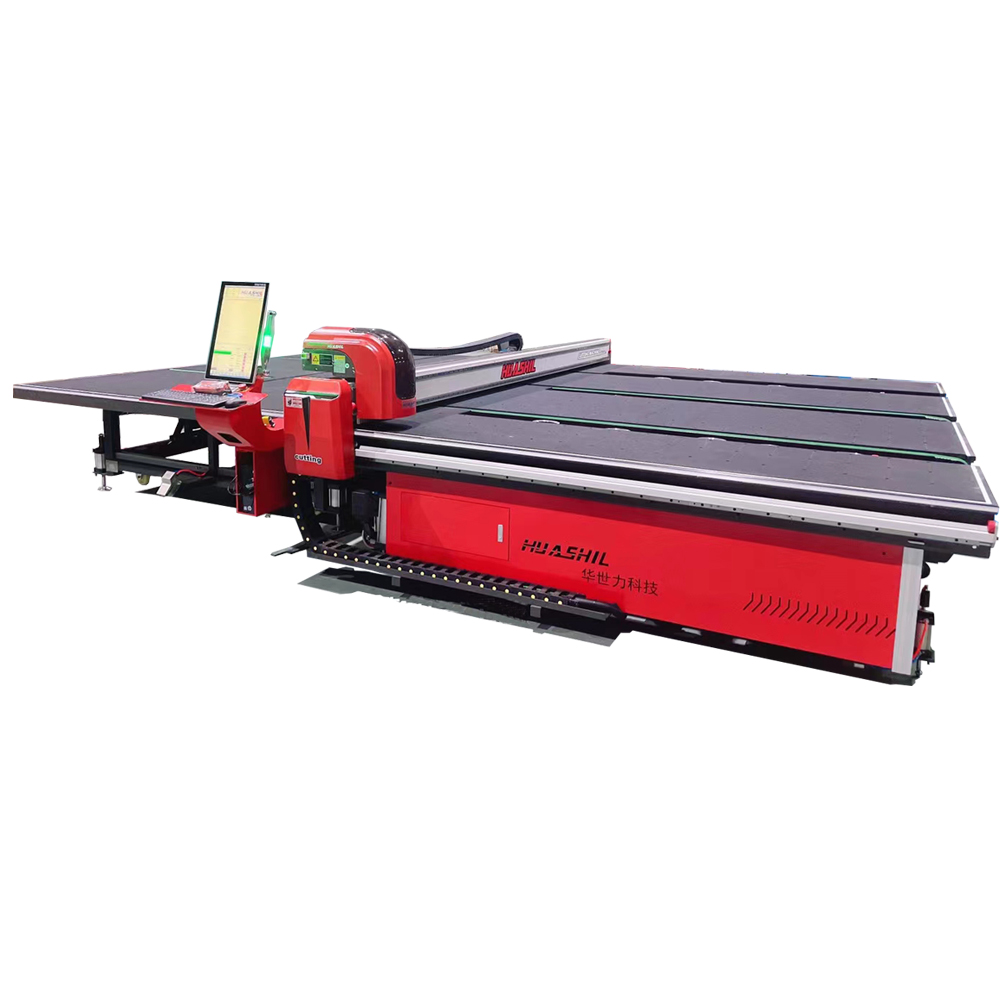 Automatic glass cutting machine has the advantages of high automation, simple operation, through computer control, input required cutting glass size and autocad graphics, the computer will automatically optimize typesetting and cutting planning, determine the processing parameters, automatic, accurate, high-speed cutting operation of glass.
The preprocessing mechanism is mainly used to obtain the terminal position, initial cutting Angle, stopping cutting Angle, speed, twist, acceleration and deceleration time, flat blanket movement time and so on. To determine whether there is continuous amputation or need to be amputation. To ensure the continuity of sectioning can also improve the efficiency of sectioning.
However, after preprocessing, the information of each point will be increased from 16 bytes to 196 bytes. If the cut is of a different nature (a circle of ripples requires 200-300 cut instructions). The memory occupied by the preprocessing is beyond the storage space of the controller, and it takes a lot of time to complete the preprocessing of all cutting instructions at one time.
一. Introduction of pretreatment mechanism of automatic glass cutting machine
When the controller receives the cutting start instruction, the motion controller starts to preprocess the cutting and turning instruction. For the reasons mentioned above, the instruction queue is much larger than the queue of partial processing points, assuming that there are 100 cutting and creating instructions. The preprocessing queue is set as 3. When the processing of the three cutting instructions is finished, the preprocessing queue is full, and at this time the first three points have enough information to fill. Publish the information of color A in advance, calculate the speed of xu complement, and send it to the speed queue.
The amn queue draws speed to the sail when the clock is interrupted. The period of clock interruption is generally 4m. When the encounter queue is picked, the main program does not do any work, but only waits for the queue bit basin.
The controller can actually use this time to perform calculations related to the top processing. Top A time – speed queue size x4(ms). When the speed queue is large enough, the amn queue can be declared and the preprocessing calculation can be carried out in the main program.
Two, automatic glass cutting machine performance characteristics
1. The use of professional computer software, equipped with professional cutting, optimization typesetting system, simple operation, high processing accuracy, cutting speed can be arbitrarily adjusted.
2. Cutting beam is driven by high-precision gear and square guide rail, with stable precision and high holding capacity.
3. Key components are imported well-known high-end accessories, stable quality, long service life.
4. Easy to maintain and use. Input the size and autocad graphics, computer will automatically optimize typesetting and cutting planning, determine the processing parameters, automatic, accurate, high-speed cutting of glass.
---
Post time: Dec-03-2021